Carpet in Lowell, AR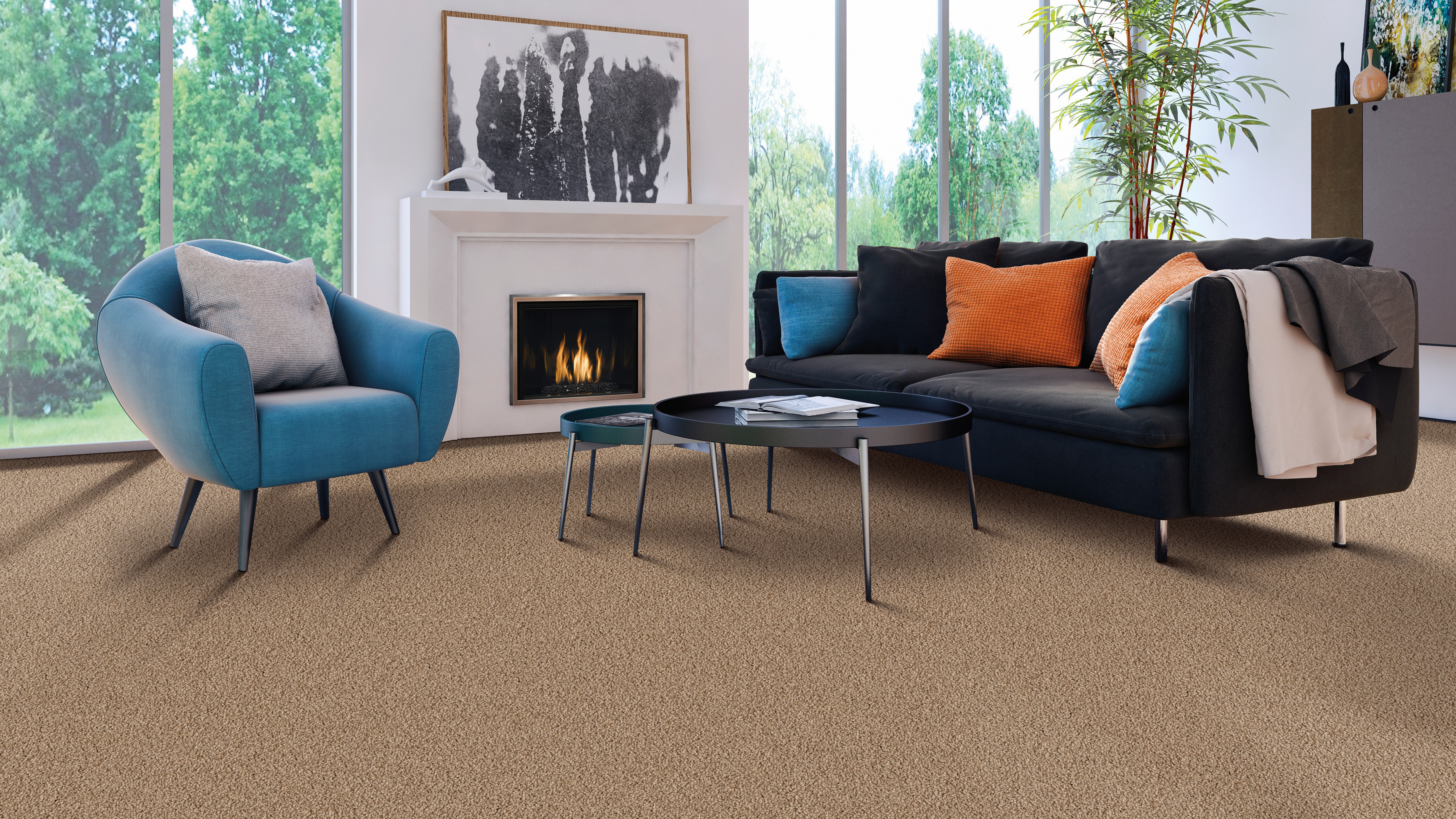 Enhance the elegance and comfort of your Lowell, AR home with top-tier carpet flooring from Flooring America by CarpetSmart. Our Lowell showroom boasts an extensive range of exquisite carpet options, including luxuriously soft Berber carpet and captivating patterned designs, all designed to elevate the ambiance of your living spaces.
Carpeted flooring not only envelops your rooms in plush comfort but also opens up a world of interior design possibilities. With a diverse array of carpet types and styles, we simplify your quest for the ideal flooring solution. In our showroom, you'll discover a curated selection of carpet flooring sourced from industry-leading brands and manufacturers, each known for their commitment to quality and style.
Discover the perfect carpet that breathes new life into your home's interiors. At Flooring America by CarpetSmart in Lowell, AR, we're dedicated to transforming your living spaces into cozy, stylish havens with our premium carpet flooring selections. Explore our showroom today to experience the ultimate in comfort and design excellence.
Dive into Our Diverse Carpet Selection in Lowell, AR
Explore our diverse carpet offerings, carefully curated to cater to your individual preferences and lifestyle needs. When it comes to choosing the perfect carpet for your Lowell, AR, home, we've got you covered with an array of options that deliver both style and functionality. Here are some of the remarkable types of carpets we offer:
Berber Carpets: Renowned for their versatility, Berber carpets offer a soft, cushioned feel underfoot. Available in multi-level or level-loop piles, they exhibit natural strength and durability, making them an excellent choice for high-traffic areas in your home. Whether you're seeking comfort or resilience, Berber carpets have you covered.
Frieze Carpets: Their silky and smooth texture provides a plush, luxurious feel that's highly resistant to stains and dirt. Their distinctive knotted appearance adds depth and dimension to any room, creating a cozy and inviting atmosphere that's both stylish and practical.
Loop and Cut-Loop Carpets: If you prefer a casual and homely look that effectively conceals footprints, our loop and cut-loop carpets are perfect. Loop carpets feature uncut looped fibers, woven or tufted into the surface level, while cut-loop carpets consist of snag-free straight, cut fibers. These options are ideal for households with pets and children, offering comfort without compromising durability.
Patterned Carpets: Our patterned carpets are ideal for those seeking to make a bold design statement. These carpets infuse any room with artistic and visually striking flair, achieved through a printing process similar to paper or rotary screen printing. Elevate your interior decor with these captivating designs.
Saxony Carpets: If luxury and elegance are your priorities, Saxony carpets are a top-tier option. As cut-pile carpets, they resist shading, wear, and traffic marks, ensuring a long-lasting and durable flooring solution that adds a touch of sophistication to your living spaces.
At Flooring America by CarpetSmart in Lowell, AR, we take pride in offering a comprehensive range of carpet types, each designed to cater to your unique tastes and lifestyle requirements. Visit our showroom today to explore these exceptional carpet choices and find the perfect flooring solution for your home.
Carpet's Many Advantages
Carpet has so many great advantages, including:
Comfort Beyond Compare: Sink into the luxurious softness underfoot, providing a cozy haven for relaxation and play.
Warmth Amplified: Enjoy a natural insulator that retains warmth, making every step a comforting experience, especially during colder seasons.
Noise Diminished: Revel in a quieter environment as the carpet absorbs and dampens sounds, reducing echoing and disturbances.
Safety Enhanced: Experience a reduced risk of slips and falls, thanks to the cushioned surface that provides a secure footing.
Versatile Styles: Discover a plethora of design options, patterns, and colors, allowing you to match your carpet to your decor effortlessly.
Allergen Trapper: Benefit from a healthier indoor environment as carpet fibers trap allergens, keeping them from circulating in the air.
Energy Saver: Increase energy efficiency by providing additional insulation, helping to maintain room temperatures and reducing utility bills.
Durability Defined: Choose from sturdy materials that withstand wear and tear, ensuring your investment maintains its allure for years.
Budget-Friendly: Achieve elegance without breaking the bank, as carpet offers an affordable way to elevate your space's aesthetics.
Is There a Waterproof Carpet?
Yes, there are waterproof carpet options available in the market. These innovative carpets are designed to resist moisture and spills, making them ideal for areas where traditional carpeting, such as basements, kitchens, and bathrooms, might be vulnerable to damage.
Waterproof carpets typically feature a specialized backing or treatment that repels liquids, preventing them from soaking into the carpet fibers. This safeguards against stains and helps maintain the carpet's structural integrity over time.
If you're looking for a flooring solution that combines the warmth and comfort of carpet with the practicality of waterproofing, consider exploring our range of waterproof carpet options at Flooring America by CarpetSmart in Lowell, AR. Our experts can guide you in finding the perfect waterproof carpet to meet your specific needs and enhance the functionality and aesthetics of your space.
Professional Carpet Flooring Installation
You can rest assured at Flooring America by CarpetSmart, as our professional and trained installers will take care of you and install your beautiful new carpet flooring. Your carpet purchase is guaranteed to look amazing with our in-home installation, and our team of expert installers will get the job right the first time and on your schedule. While we do all the work, all you need to do is sit back and relax. By trusting us to handle your installation, we ensure that our Ultimate Confidence Guarantee backs the investment you put into your home. We promise you that if you are unhappy with your new flooring or the installation and call us within 30 days of your installation, we will happily replace them at no additional cost to you.


Contact us to learn more about our carpet flooring selection. We proudly serve customers in Lowell, Rogers, Cave Springs, Bentonville, Centerton, Bella Vista, Fayetteville, Tontitown, Gravette, Decatur, Gentry, Siloam Springs, Garfield, Little Flock, Pea Ridge, Farmington, Lincoln, Prairie Grove, and Hunstville, AR, as well as the surrounding communities.