Hardwood Flooring in Springdale, AR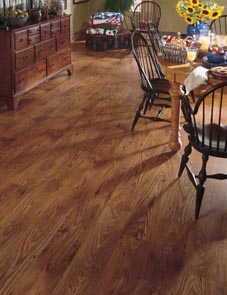 It's important to remember that wood floors are designed as either engineered or solid. Also, there are many types of new flooring that has the properties of hardwood, without technically being made from true hardwood, such as cork or bamboo. While neither of these types is superior to the other, they each have benefits that should be taken into consideration.Our showroom is a leading flooring store in the area, providing high-quality, discount flooring and in-home services. We offer an outstanding line of hardwood flooring options for any style preference. Whether you're striving for a contemporary or classic look, we have the solution for you. Out flooring specialists are available to take your calls, or if you prefer, come into our store to find the hardwood flooring that meets your needs.
Enhancing Your Home with Great Hardwood Flooring Options
These days, renewable and environmentally friendly flooring options are in demand, and our flooring store has answered the call. With a number of hardwood flooring options, such as bamboo or cork, to choose from, you no longer have to sacrifice beauty to save the environment. Both of these flooring choices come from sustainable resources, and have a style on par with genuine hardwood. With our wide selection to choose from, you are sure to find the right flooring for your home.
With so many choices available in our stunning hardwood collections, you are sure to find the floors that perfectly suit your needs in looks, performance, and price. Work with a professional to learn about the various species, brands, and hues of hardwood. With a number of earthy colors available, you are bound to find the look that fits all of your aesthetic preferences. We have various hardwood flooring options for you to choose from, including all of the following:
Visual Accents

Custom-Scraped Wood
Geometric Patterns
Plank Floors

Types of Hardwood
Get All Types of Wood Floors by Shopping with Us
Solid hardwood will always have a place in our homes. This rustic, yet noble, flooring is known for its beauty, style, and longevity. If well taken care of, authentic hardwood easily lasts the life of the home. The great thing about this flooring choice is its ability to be refinished if it becomes too scuffed up looking. Most hardwood floors are able to be refinished four to five times during their lifetime.
Engineered hardwood flooring is very similar to real hardwood in many ways. They both still have the classic look that people love wood for. However, engineered floors are made from a composite of fiberboard and real wood bonded together in layers. This creates a floor that is virtually indistinguishable from real hardwood, but with a higher durability and resistance to water. Rooms that may be exposed more to moisture, such as a kitchen or basement, should consider engineered hardwood flooring. However, unlike real wood planks, engineered wood is only able to be refinished one or two times in its life.
Let Us Help with Your Hardwood Flooring Installation
We only supply homeowners with home flooring that has been expertly constructed with superior materials. Our goal is to provide expert services whether we're guiding you through your options or inspecting your installation. Our dedication goes beyond just helping you select a beautiful hardwood floor. Our flooring experts offer in-home meetings and hardwood flooring installation follow-up services. We'll provide advice on how to prolong the life and appearance of your hardwood floor.
Contrary to popular belief, it is more affordable to hire our installers for your install in order to protect your investment in the long run. The reason for this is actually quite simple; our expert installers have the skills and experience to do the job most efficiently. That means you don't buy more wood than you need or, even worse, too little. With professionals you don't have to worry about mistakes being made, wood being cut too long or short, and wasting materials. We do the job right the first time, so you are able to enjoy your new floor right away.
Contact us to choose from a number of fantastic hardwood flooring options. We serve Springdale, Fayetteville, Lowell, Cave Spring, Siloam Springs, Arkansas, and the surrounding area.