Hardwood Flooring in Lowell, AR
Add beauty and elegance to your home with timeless hardwood flooring. When you turn to Flooring America by CarpetSmart to help you find your hardwood flooring, you're relying on a team who values your time and honors your unique needs. By investing in hardwood floors, you are significantly increasing the value of your home while creating a warm inviting space for you and your family. Our knowledgeable team will be with you from selection to installation, offering excellent service every step of the way! Visit our hardwood flooring showroom in Lowell, AR, to explore all of our hardwood flooring options!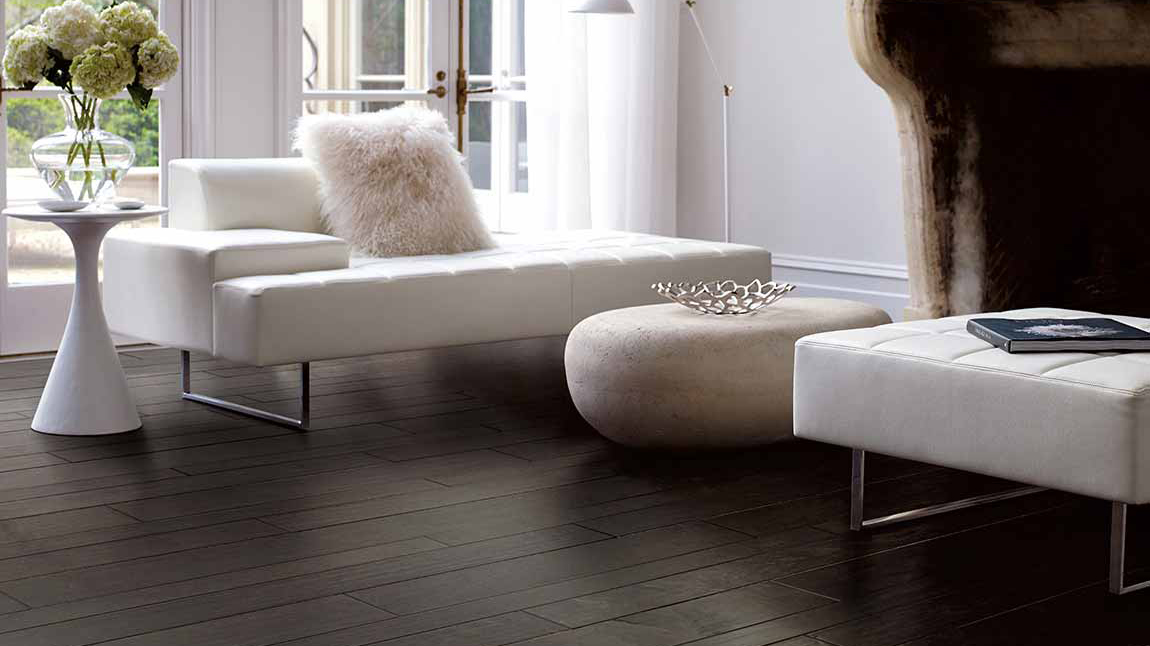 Types of Hardwood Flooring for Your Arkansas Home
The two types of hardwood flooring available at our local Lowell flooring store are solid wood and engineered hardwood. Both come in a wide variety of species including oak, maple, mahogany, and more, but offer different performance advantages. Our stunning wood selection comes in different colors, plank sizes, and grains. No matter which hardwood flooring option you choose, they both add elegance to your home with their natural and timeless beauty. Learn about the types of hardwood flooring that we carry:
Engineered Hardwood Flooring
Engineered wood flooring is made by layering wood with grains running at different angles and topped with a thin veneer of solid wood. This style of wood flooring is created to naturally expand and contract in response to changes in moisture and humidity, a quality highly valued in our damp local climate. This characteristic guarantees that the flooring remains intact and steady even when exposed to wet conditions, making it suitable for installation in any area of your residence. Although engineered hardwood presents the appearance of solid wood, it boasts superior structural stability, permitting its use throughout various spaces, including those prone to moisture like kitchens and bathrooms
Solid Hardwood Flooring
Solid wood flooring is your classic type of hardwood flooring—one solid plank of wood cut to your desired dimensions. Not only is it exceptionally beautiful, it is a strong and enduring flooring solution that remains a popular choice among homeowners throughout Arkansas. Renowned for its exceptional durability, solid wood can last a lifetime with proper maintenance. Further, you can refinish solid wood floors over their lifespan to switch up the look or simply restore the planks' luster.


Hardwood Flooring's Many Benefits
Compared to many other types of flooring, hardwood offers many benefits. Not only is it timeless and beautiful, but it is also strong and enduring. We only carry trusted hardwood flooring brands and manufacturers so that our customers know they are getting a quality product. Some of these hardwood brands include Shaw, Mohawk, Anderson, D&M, Regal, Bella Cera, Jackson Hardwoods, and more! With these qualities, it's no wonder hardwood is one of the most popular flooring choices on the market today. Learn about some of the other amazing benefits of hardwood flooring:
A high-end appearance with natural elements and earth tones that add warmth and coziness to any room.
Improves the resale value of your home.
Comes in a variety of appearances, colors, styles, stains, and species.
Strength and durability from quality wood products are used to make both solid and engineered hardwood flooring.
Easy to keep clean and requires very little maintenance.
Improves acoustics in your space.
The smooth surface of hardwood makes it easier to remove dust and debris, which helps maintain better indoor air quality.
Looks great with any decor style.
Selecting the Perfect Hardwood Floors for Your Lowell Home
With so many options to choose from, it is completely normal to feel overwhelmed when shopping for new hardwood floors. At Flooring America by CarpetSmart, we strive to make your shopping experience stress-free and fun! Our sales team is well-versed in all things hardwood flooring renovations and proudly serves as your guide through the entire process. We take the time to listen to your lifestyle, performance needs, style preferences, interior design goals, and budget to narrow down your search. Whatever questions you have, we'll find an answer. Find your dream hardwood flooring at our Arkansas showroom today!
Professional Hardwood Flooring Installation Services
Don't stress about installing your new hardwood floors yourself when you can rely on our team of expert installers. We have the resources and tools needed for installation projects of all shapes and sizes. Our team completes every hardwood installation project on time and on your schedule for a worry-free experience. From the initial consultation until the completed installation, you'll see up close just how much support you have from our team.
We are so confident in our work that we back almost every job with our Adore Your Floor Guarantee. This guarantee is our promise to you of a quality job. Should you find yourself unhappy with the flooring we've installed, you don't have to worry. As long as you contact us within 30 days of your initial installation, our team will replace the flooring with a similar product at no additional cost to you!
Contact us today to learn more about our extensive hardwood flooring selection and installation services. We proudly serve Lowell, Springdale, Fayetteville, Cave Spring, Siloam Springs, AR, and the surrounding areas.