One Stop for Flooring in Springdale, AR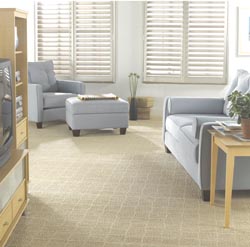 When you're ready to update your home's flooring in Springdale, AR, you shouldn't have to undertake an odyssey to find a decent selection of dependable options to choose from. That's why you should start your shopping at Flooring America by CarpetSmart. We carry everything you need to craft custom surfaces using the best materials and brands in the industry.
Included in our extensive inventory are premium selections of:
Under one roof, you can compare the advantages of hundreds of different products. Plus, our in-store experts offer a wealth of knowledge that you can rely on to help you make informed decisions about your future home flooring. From understanding the right surface for a particular environment to learning about the importance of upkeep, you can start your project with confidence when you shop at your leading local showroom.
Preserving Your Floor's Value
We make it easy to find and compare exceptional surfaces, but choosing the right product is only half the battle. If you want your home's stunning new foundation to stand the test of time, you'll need to manage maintenance effectively. That's why we work to keep our customers prepared for the upkeep needs of any purchase.
When you buy from our flooring store, you gain the added advantage of a team who can help you pick out a product that aligns well with your schedule and level of experience. Whether you want something low-maintenance that looks its best without much effort on your part or a versatile and natural material that you can resurface in the future, you can find the right option in our inventory.
With guidance from trusted team members, you never need to worry about buying something that you don't have the time or desire to maintain. Instead, you can plan for long-term success before you ever spend a cent. Browse our flooring brands today to discover the right match for your lifestyle.
Comprehensive Help with Your Project
Flooring America by CarpetSmart is committed to your success. Because of that dedication, we do everything in our power to help you get pristine, value-increasing results from any material you choose. Partnering with us is the best way to combine convenience, competence, and confidence to get the floors you deserve.
From information on our current deals to professional advice on how to make the most of your flooring installation, take advantage of all of the services available when you make us your preferred supplier for home floor coverings.
Contact us now to get qualified help with floors for your home improvement project. We proudly serve Springdale, Fayetteville, Lowell, Cave Spring, and Siloam Springs, Arkansas, as well as the surrounding communities.