Durable & Beautiful Laminate Flooring For Your Home
Laminate Flooring in Lowell, AR
Discover resilient, versatile flooring that will complement any decor in your home. Give your space an all-new look and feel by installing laminate flooring from Flooring America by CarpetSmart. When you visit our showroom in Lowell, AR, you'll discover that upgrading your home with beautiful new laminate flooring is easy with the help and support of our highly experienced flooring experts. We proudly carry an extensive selection of laminate floors, so you don't have to settle for unimpressive flooring in your space. Whether you're looking for laminate wood flooring or laminate tile flooring, we have it all! If your old floors look tired, upgrade your space with one of our high-quality laminate flooring products. No matter your specific interior design preferences, we're confident the right flooring for your aesthetic desires and performance needs is beyond our doors.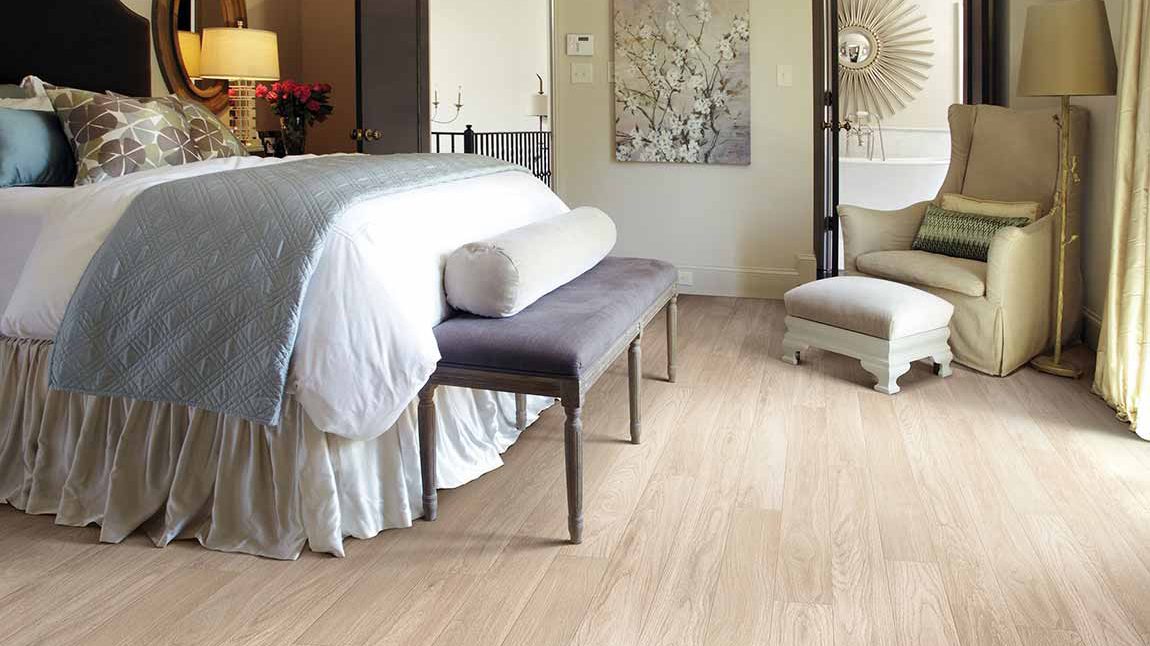 What is Laminate Flooring?
Laminate flooring is a synthetic flooring product made from several layers that are sealed together. It is designed to be affordable and durable, leaving you with the flooring you can feel confident about. Laminate has four distinct layers: the wear layer, the decor layer, the core layer, and the backer layer. Each layer is perfectly designed to help laminate floors last for years and continue to look as new as the day you installed them. These layers are sealed in one of two ways, the direct-pressure method or the high-pressure method. Both methods produce gorgeous laminate floors that can be found in various colors, textures, and patterns. Learn more about how they are manufactured:
The direct-pressure method fuses all four layers of the laminate at once. This method makes the most affordable and common types of laminate flooring.
The high-pressure method fuses laminate layers one at a time with higher amounts of weighted pressure and heat to produce the most durable laminate flooring, making it ideal for commercial spaces.
Types of Laminate Flooring
Laminate flooring is one of the most outstanding developments in home improvement! Laminate flooring is a versatile flooring option for any room in your home, as it is designed to look and feel like its real natural counterparts: tile, wood, and stone. Our laminate designs are made to mimic both dark and light hues of natural wood and stone materials. From laminate wood flooring to laminate tile, browse our broad selection of laminate flooring options to find the perfect style to suit your taste. Learn about the types of laminate we proudly carry at our local flooring store:
Laminate Wood Flooring: Wood-look laminate flooring replicates everything from glossy oak to hand-scraped hardwoods. Suppose you are looking for wood-look flooring in your kitchen that is oops-proof and offers waterproof protection. In that case, laminate's layered composition delivers maximum performance with an authentic hardwood appearance and texture. Its high-quality photogenic layer and clear coating on top allow you to see an authentic image of wood beneath.
Laminate Tile Flooring: Natural stone, ceramic, and porcelain tiles bring elegance to any room in your home. If you're looking for tile-look flooring at an affordable price, choose laminate flooring.
Are Laminate Floors Worth It?
Oh yeah! Laminate offers so many amazing benefits that other types of flooring don't. Not only does laminate flooring look amazing in any room, but it also lasts for many years. We only carry laminate from the best brands in the industry so that you know you are getting top-quality flooring. These brands include Floorcraft, Mannington, Mohawk, Shaw Floors, and more! Learn more about laminate's great benefits:
Comfortable, resilient feeling underfoot.
Easy on your budget to maximize value.
Extremely durable & long-lasting.
Resists everyday household spills and scratches with ease.
Matches any interior design with hardwood or natural stone looks.
Ensure a low-maintenance household for busy lifestyles.
Simple installation process so you can begin living on your beautiful new floors almost immediately.
Boosts insulation so you can spend less on energy bills.

Keeping Your Laminate Clean
Keeping your laminate floors clean is easy! It is one of the most durable forms of flooring on the market for a reason! This is because the laminate requires very little upkeep and doesn't need to be refinished or touched up after years of use. Laminate is low maintenance and calls for a few simple steps to keep them looking fresh and brand new:
Clean up any spills or accidents as soon as possible.

Sweep or vacuum regularly to remove any dirt and dust.

Use a damp mop for a deeper clean with warm water and mild detergent. Before purchasing any cleaning products, check your floor's warranty or ask our flooring experts for a recommendation!
Laminate Installation Services
Call on our experienced crew members to place your new laminate floors perfectly. From the selection process to the placement of your new flooring, you can expect us to put our expertise to work for you at every turn. Share your flooring needs, and you can have the utmost confidence that we'll leave you with the stylish look you've longed for. Our promise of a quality job is backed by some of the best guarantees in the industry, including our Ultimate Confidence Guarantee. This is our promise to you of a quality job. If you are unhappy with your new laminate flooring, call within 30 days of your installation, and we will replace it with a similar product at no additional cost.


Contact us
to learn more about our laminate flooring selection. We proudly serve property owners in Lowell, Springdale, Fayetteville, Cave Spring, Siloam Springs, AR, and the surrounding areas.