Laminate Flooring in Lowell, AR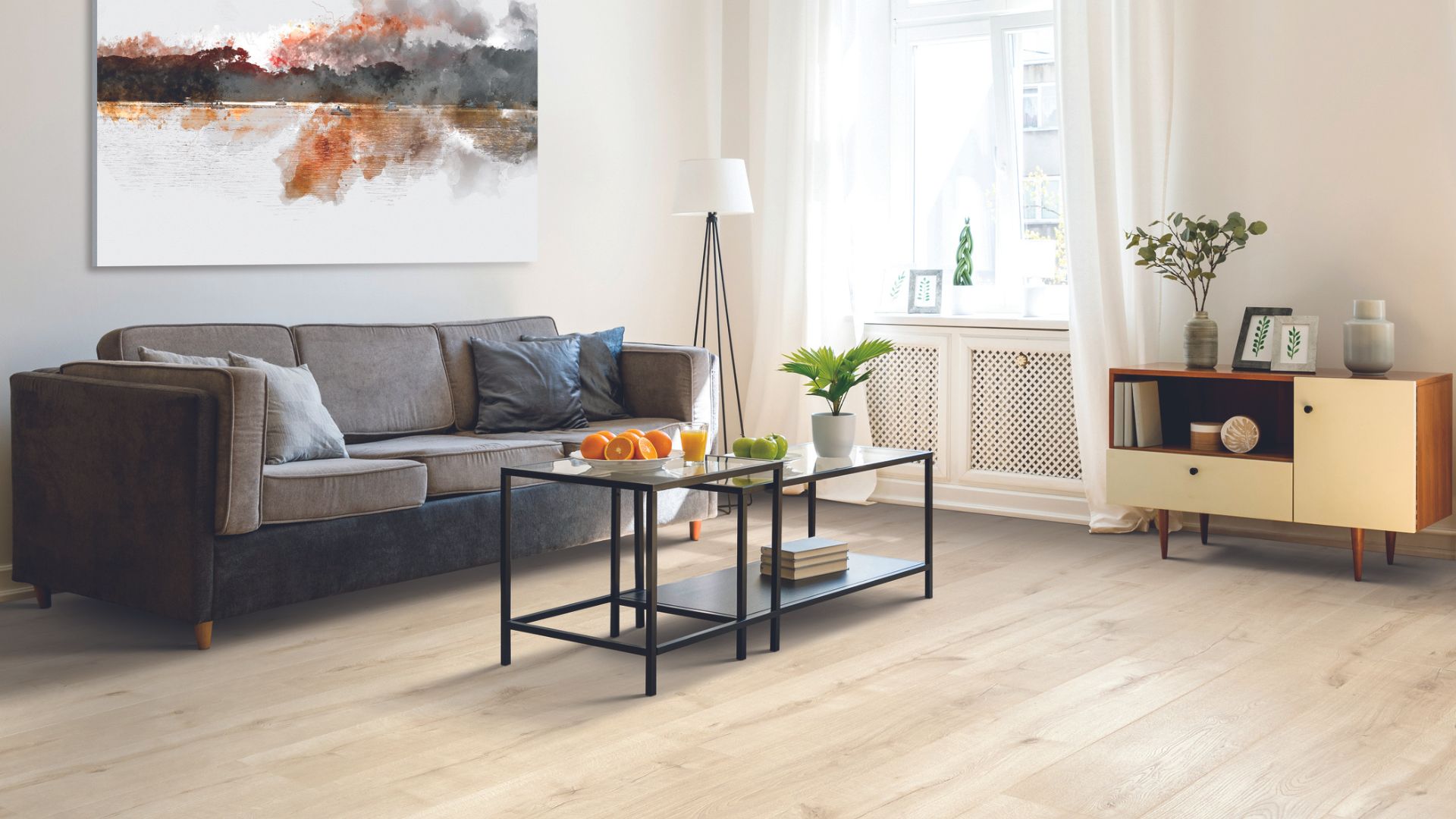 Discover resilient, versatile flooring that will complement any decor in your home. Give your space an all-new look and feel by installing laminate flooring from Flooring America by CarpetSmart. When you visit our showroom in Lowell, AR, you'll discover that upgrading your home with beautiful new laminate flooring is easy with the help and support of our highly experienced flooring experts. We proudly carry an extensive selection of laminate floors, so you don't have to settle for unimpressive flooring in your space. Whether you're looking for laminate wood flooring or laminate tile flooring, we have it all! If your old floors look tired, upgrade your space with one of our high-quality laminate flooring products. No matter your specific interior design preferences, we're confident the right flooring for your aesthetic desires and performance needs is beyond our doors.
Types of Laminate Floors
We proudly carry two types of laminate: laminate wood flooring and laminate tile flooring. Learn more about each type:
Laminate Wood Flooring: Immerse yourself in the timeless allure of hardwood floors, all without the hefty price tag. Our laminate wood flooring captures natural wood's genuine appearance and tactile feel, infusing warmth and sophistication into every corner of your dwelling. With an expansive array of styles, hues, and finishes, locating the perfect match for your design inclinations is a breeze. Revel in the sturdiness and fuss-free upkeep that laminate wood flooring brings; it fends off scratches, stains, and fading. Its ability to resist moisture renders it a fitting choice for kitchens and bathrooms, where traditional hardwood might not fare as well.
Laminate Tile Flooring: Embark on a journey to attain the elegance of ceramic or stone tiles through our laminate tile flooring collection. These floors artfully emulate the exquisite look of tiled surfaces while delivering the practicality and cost-effectiveness that define laminate. Discover an array of tile designs encompassing the charm of ceramic and the grandeur of stone, enabling you to craft captivating visual displays within your home. Laminate tile flooring promises effortless maintenance and longevity. Experience the cozy embrace and gentle warmth beneath your feet, contrasting conventional tiles. This makes it an intelligent selection for areas where both style and comfort take precedence.
Why Should You Choose Laminate?
Laminate flooring brings a multitude of advantages to your Lowell home, transforming your space with style and durability. Here's why laminate is the ultimate choice:
Realistic Resemblance: Laminate is the master of disguise, replicating the allure of your cherished flooring styles like hardwood or ceramic tile. Thanks to cutting-edge manufacturing techniques, it captures every intricate detail.
Four-Layer Excellence: Comprising four robust layers, laminate ensures top-tier performance. The moisture-resistant base shields against dampness, while the sturdy core withstands heavy foot traffic, maintaining its form.
Defensive Wear Layer: Safeguarding your floor against stains and marks, the wear layer boasts a fusion of melanin resin and aluminum oxide. This dynamic duo is your floor's armor against life's little mishaps.
Decorative Flair: The top layer doubles as a canvas for creativity. Dive into a world of patterns and designs, granting your space an aesthetic boost.
Easy Maintenance: Laminate floors are incredibly easy to clean. Regular sweeping and occasional damp mopping is all that is needed to keep your laminate floors pristine.
Affordability: Compared to hardwood flooring and other alternatives, laminate offers a cost-effective solution without compromising quality or style.
Experience Laminate Flooring Excellence with Us
When you choose Flooring America by CarpetSmart in Lowell, AR, for your laminate flooring needs, you're not just getting premium products – you're gaining a team of dedicated professionals passionate about enhancing your living spaces. From laminate wood flooring to laminate tile flooring, we offer an extensive selection to cater to your unique style and requirements.
Experience the benefits of laminate flooring firsthand and elevate the beauty and functionality of your home or business. Contact us today to schedule a consultation or visit our showroom to explore our impressive range of laminate flooring options. At Flooring America by CarpetSmart, we're here to turn your flooring dreams into reality.
Professional Laminate Flooring Installation
Call on our experienced crew members to place your new laminate floors perfectly. From the selection process to the placement of your new flooring, you can expect us to put our expertise to work for you at every turn. Share your flooring needs, and you can have the utmost confidence that we'll leave you with the stylish look you've longed for. Our promise of a quality job is backed by some of the best guarantees in the industry, including our Adore Your Floor Guarantee. This is our promise to you of a quality job. If you are unhappy with your new laminate flooring, call within 30 days of your installation, and we will replace it with a similar product at no additional cost.
Contact us to learn more about our laminate flooring selection. We proudly serve property owners in Lowell, Springdale, Fayetteville, Cave Spring, Siloam Springs, AR, and the surrounding areas.