Enjoy Your Choice of Wood-Look Tile in Springdale, AR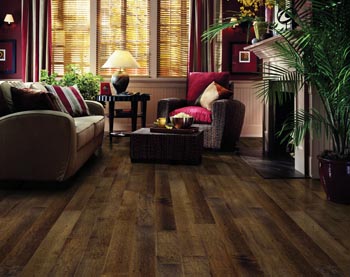 Are you looking for an ideal way to revitalize the interior atmosphere of your home? Add a new durable surface underfoot that perfectly matches your unique sense of style. Local homeowners know that Flooring America by CarpetSmart is the place to go for beautiful flooring options. When you're looking to redress your home flooring, consider the benefits of wood-look tile in Springdale, AR.
At our expansive showroom, shoppers of virtually all tastes and preferences will find an impressive assortment of appealing floorings materials. Notably, our look-alike options cater homeowners who wish to augment their spaces with the undeniably attractive look of hardwood flooring, even in areas where real hardwood flooring won't fare well. Visit our fully stocked showroom to discover all of the design possibilities that await you.
Redress Any Room with the Classic Look of Hardwood
When ambitious shoppers step through our doors, they'll have little trouble finding a highly desirable choice among our collection of look-alike floors. Specially fabricated to present the look of real hardwood flooring, our diverse selection of look-alike flooring choices includes:
Ceramic Wood Tile
Porcelain Wood Tile
Wood Plank Ceramic Tile
Wood Plank Porcelain Tile
Regardless of your flooring preference, you'll surely find an ideal choice that offers a distinct combination of appeal of longevity when you browse our inventory. Best of all, our wood-look tile and plank floors emulate an enviable look and maintain the excellent performance capabilities of traditional tile flooring.
Enjoy Look-Alike Choices in Moisture-Prone Areas
Due to the resilient nature of wood-look tile and plank flooring materials, even moisture-prone areas that typically aren't well-suited for traditional hardwood such as bathrooms, basements, and kitchens can be fit with a familiar look. Are you unsure which of our quality look-alike floors would best suit your remodeling project? Share your project details with our dedicated specialists and we'll help you find a highly desirable selection.
Once you've made your choice, we'll gladly handle your installation so that every inch of your new floor is installed precisely. As your dedicated team of flooring installation experts, you can count on our skilled servicemen to treat your new wood-look tile or plank flooring as well your interior with care. Rest assured that you'll come away with all-new floors that are sure to offer remarkable appeal and stand up strong to foot traffic year after year.

Contact our showroom to find the right wood-look tile or plank flooring for your remodeling project. We proudly serve homeowners in Springdale, Fayetteville, Lowell, Cave Spring, and Siloam Springs, Arkansas, and the surrounding communities.